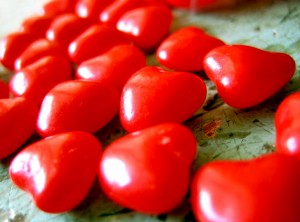 This week we put a twist to one of our most favorite traditional recipes. With Valentines quickly approaching, we decided to combine our Spy apples with our favorite seasonal candies with the end result being the most delicious light dessert any 'sweetheart' could ask for. That's right ….'Cinnamon Heart' Apple Sauce!
Apple sauce is made by cooking down apples with water and then puréeing the apples to make a nice smooth texture. Some people add sugar and spice for flavoring, but we combined the steps with simply adding cinnamon hearts.  The cinnamon hearts also give the sauce a nice red colour.
Apple sauce is a nice winter treat eaten on its own or can accompany main course meals.  For instance, apple sauce is a great condiment for roast pork or potato pancakes. If you're like me, and looking for a healthy treat for your loved one try making them 'Cinnamon Heart' apple sauce for the holidays.